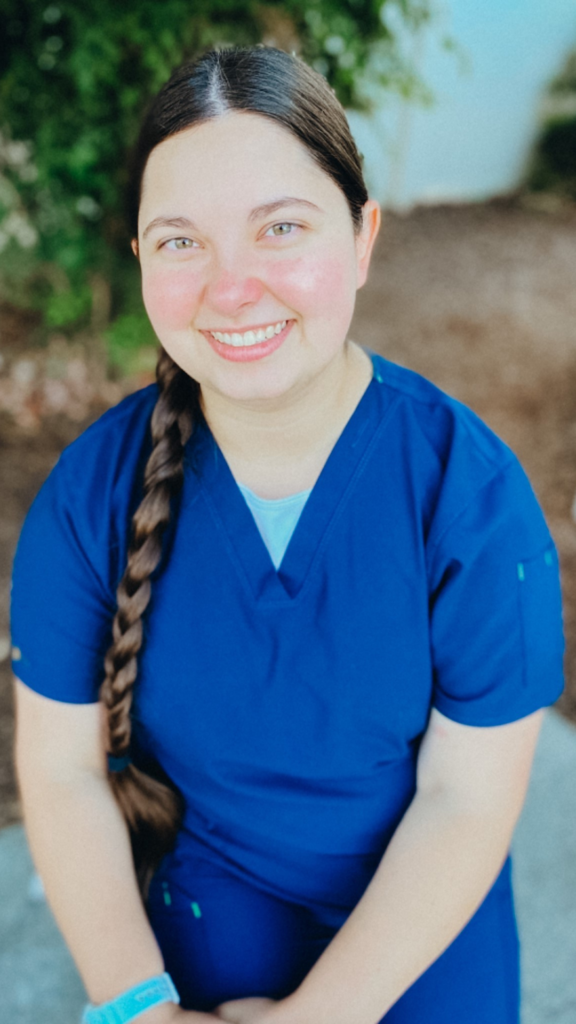 Louise!
---
What do you do at Options?
I interact with patients by going over their health histories, running pregnancy tests, and performing ultrasounds. I also get to follow-up with patients periodically throughout their pregnancies, seeing how things are going and if they need anything. If we can offer them something here, like a model ultrasound or more prenatal vitamins, great! But if we don't have what they need, then it's nice to see if there are other places in the area that we can point them to where those needs can be met.
How long have you been here?
I started working here in July of 2021, so almost one year.
What do you enjoy about working here?
I really enjoy the patient interactions. Some women have been wanting to be pregnant for a long time, while others were not expecting or desiring to find themselves pregnant. It is a privilege to talk with all of them. For those who get the results they were hoping, it is wonderful to share their joy! And for those who are disappointed, it is humbling to be able to offer what support and encouragement I can.
Tell us more about you!
I have wanted to help women facing unexpected pregnancies since I was about 16 years old. The path that God placed me on then was not always clear, but He showed me the next steps as He was ready for me to see them. Now, I not only get to help women like I have longed to do for the past 8 years or so, but I also get to work alongside lovely Christian women who are just as passionate about helping these mothers and their babies as I am! Outside of Options, I enjoy music and teach a few private piano lessons each week. I also enjoy reading and sewing and doing various outdoor activities with my husband!
What do you want people to know about Options?
I want people to know that here at Options, we do not pretend to know all the answers. The nurses do their best to know the answers to the various health-related questions that women may ask, and all of our staff keeps updated on resources and support available to women in the local area. But we know that it would be impossible for anyone to know the answers to every question that our patients may have. If we do not have an answer, we are committed to either finding the answer or pointing our patients in the right direction. Our hope is that everyone who comes to visit us will leave feeling encouraged, empowered, and equipped for the challenges that they are facing in life.